Mithaka people and country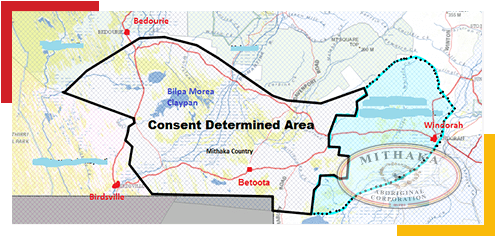 Mithaka People are Traditional Owners who in accordance with Mithaka customary laws and traditions have social, economic, cultural and spiritual affiliations with, and responsibilities for, Mithaka traditional land and waters. They mainly come from two families groups – the Gorringe and McCarthy Families.
Our People have lived and worked across these lands for generations and hold strong connections to the ancient and contemporary systems it supports. This includes Mithaka Peoples' connections to the region's communities, the Barcoo and Diamantina Shires, and tourism, pastoral and mining industries operating throughout the area.
Mithaka Aboriginal Corporation wish to welcome you to Mithaka Web country. We pay respect to Elders and ancestors, past, present, and emerging. We acknowledge our partnerships and relationships on and off country and those who visit Mithaka country on which we live, work and play.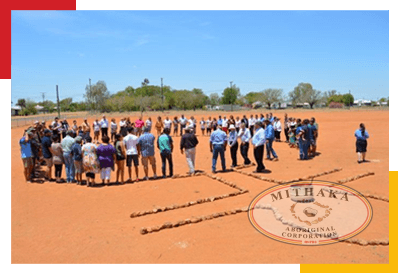 There was a lighting of the stick ceremony at Windorah to celebrate the determination.
-ABC News Ashley Moone
Native title awarded to Mithaka traditional owners in south-west Queensland.
On 27th October 2015 the Mithaka People were awarded native title over a huge area of Queensland land and water that rivals Tasmania in size. The Federal Court, sitting in Windorah in south-west Queensland, made the ruling over 55,425 square kilometres, which is only about 12,000 square kilometres less than Tasmania.
The claim, which was first lodged 13 years ago, includes parts of the Barcoo and Diamantina Shires encompassing the "ghost town" of Betoota. Queensland Natural Resources Minister Anthony Lynham said Tuesday's determination protected the Mithaka people's rights to access their lands to hunt, fish, teach and conduct ceremonies.
Minister for Indigenous Affairs, Nigel Scullion, said he was pleased the native title claim, which at one stage was headed for litigation, has now been resolved by consent. "The claim was first lodged in 2002 and today represents 13 years of hard work by the Mithaka People," Minister Scullion said. "This determination recognises the endurance of the Mithaka People, and their native title rights under Australian law. "The Mithaka People of the magnificent Channel country in far western Queensland now have certainty that their rich culture and their rights and interests are preserved for future generations.
"It is my great hope that securing native title will provide Mithaka People with the foundation to build sustainable economic and cultural development and ensure prosperity through their designated corporate entity, the Mithaka Aboriginal Corporation. "This will ensure Mithaka People can obtain the economic benefits that native title can bring through their native title corporation, the Mithaka Aboriginal Corporation."
Cultural Heritage
In Queensland's remote Channel Country of red dirt and gibber rock, an archaeological discovery is raising questions around the idea that Indigenous groups were nomadic hunter gatherers.
Aboriginal and Torres Strait Islander readers are advised that the following story contains images of people who have died.
While historical accounts have suggested Aboriginal Australians may have lived in permanent settlements, scientists say there is relatively limited archaeological evidence to back this up.
But now, a unique collaboration between Mithaka traditional owners, defence veterans, and scientists is unearthing skeletons and stone circles that experts say may paint a new picture of early Aboriginal lives.
Palaeontologists and geochronologists worked alongside local Aboriginal people to launch drones into the sky in search of evidence suggesting early life.
"We've got a drone up to get an aerial view of it all, and to work out what these sites were for and how Aboriginal people used them," Mithaka traditional elder George Gorringe said.
"My theory at this stage is I think it is some type of ceremonial ground.
"We're not sure if it's men or women, but we'll find out through the research."
A Life of Villages
To Dr Westaway, the stone circles tell a different story."What's really extraordinary about this place is the complexity and the extent and scale of the archaeology," he said.
"The sites themselves extend over quite a few square kilometres, and there's division of activity so they have quite a few different things happening at these sites."
This division of activity has left scientists scratching their heads.
"There is generally an idea that Australia was a continent of hunter gatherers, but what we see in this landscape is extensive evidence for seed-grinding and processing," Dr Westaway said.
"We see these large site complexes that almost look like villages.
"If it does turn out to be something like that, well then, that really changes our entire perspective of the Aboriginal lifestyle, prior to the arrival of Europeans."